Which fruit wood would you like?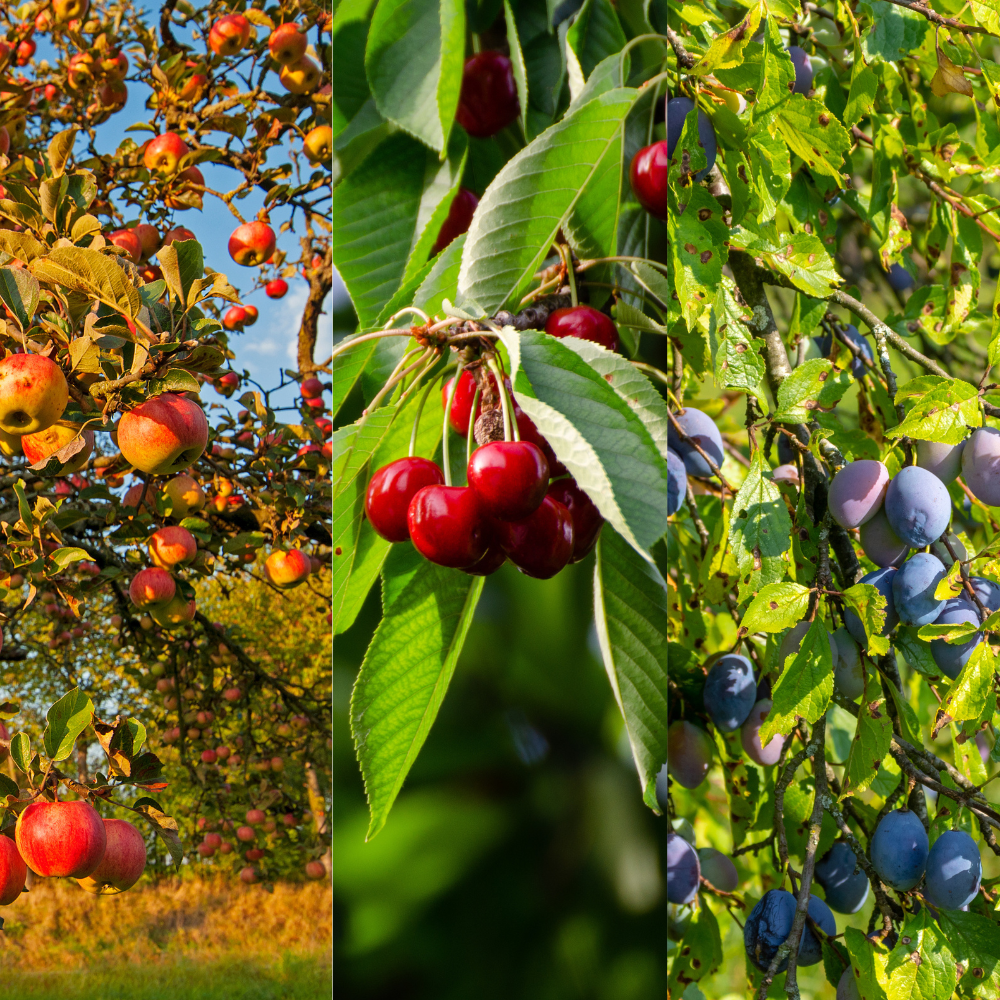 Apple, cherry or plum?
Wood is not just wood, fruit is not just fruit and people are not like anyone else and that is a good thing.
apple wood
We appreciate the very fine-pored wood of the apple. It is medium-hard, not too long-fibered and has its own very valuable character for a wooden comb.
It is mechanically very smooth to work with. We don't always have apple wood available because the quality we need is rare.
We need apple trees with a diameter of at least 50cm that do not have twisted growth and no rotten spots. If we received this trunk from fruit growers in the region, the wood is stored for 8-10 years. If we have succeeded in not cracking the wood while drying, then we can make beautiful wooden combs out of it.
For decades, an apple tree grows and grows, giving us such a wonderful fruit every fall - the apple.
The symbolism ranges from the fall of man, through female power, love and beauty to sovereign power.
How do the apple and the apple tree affect you personally? This is an invitation to sit under an apple tree with an apple in your hand and simply feel into the moment and enjoy the moment attentively.
cherry wood
Cherry wood has been the wood we use to make most of our combs for a few years now. It's probably the rather dark, vibrant color that our customers are drawn to.
Sometimes more red or green or rather shy yellow - no wood in our workshop is so constantly different in color and smells so fruity sweet when sawing as the wood of the cherry tree. This smell is reminiscent of the cherry blossoms, which symbolize purity and beauty in Japan and other countries. The mostly hard, dense and fine-pored wood of many cherry varieties is well suited for our wooden combs. Due to the influence of light and the absorption of hair fat, your comb made of cherry wood will become darker bit by bit. Warm red tones are often created, which created beautiful furniture in the Art Nouveau or Biedermeier period.
Forest bathing – shinrin-yoku – is available in Japan by prescription.
Scientists have proven that forest air is full of natural terpenes, which are absorbed into our bodies through breathing and skin and have been shown to be an immune booster.
I call encountering cherry trees in the forest in spring a happiness booster. Suddenly it smells fruity and the green of the coniferous and deciduous trees is complemented with the colors white and pink.
There is always time for a rest by the cherry tree.
plum wood
Strictly speaking, we would have to differentiate between plums and damsons. Thanks to the Franconian dialect, a plum is a damson and so we only have damson wood.
Plum wood is a rarity. We don't look for it, because it finds us. There are fruit growers or private individuals who cut down a plum tree and then contact us if we are interested.
Drying is delicate and tedious. If it succeeds, we have a fantastic wood available for our combs. Hard and fine-pored with a unique color combination of pink, violet and brown. The fiber flow is often reminiscent of flame patterns. It is not surprising that plum wood is associated with the elements fire and earth.
People who get involved with the tree and the wood feel that the wood strengthens their self-confidence and reminds them of their own strengths.
Wood is not just wood, fruit is not just fruit and people are not like anyone else and that is a good thing.
your comb maker
---