Comb Manufactory Groetsch
We have been making combs in the family since 1848.
The advantages of our wooden combs today are:
Quality, longevity, resource-saving, CO 2 neutral production, you choose the wood for your favorite comb for your radiant face.
Hair combs and hair brushes for every hair type.
Feel the most comfortable combing sensation from head to toe.
Quality through real manual work.
sustainability
durability
CO2-free and
Resource-saving production
We'll put a smile on your face.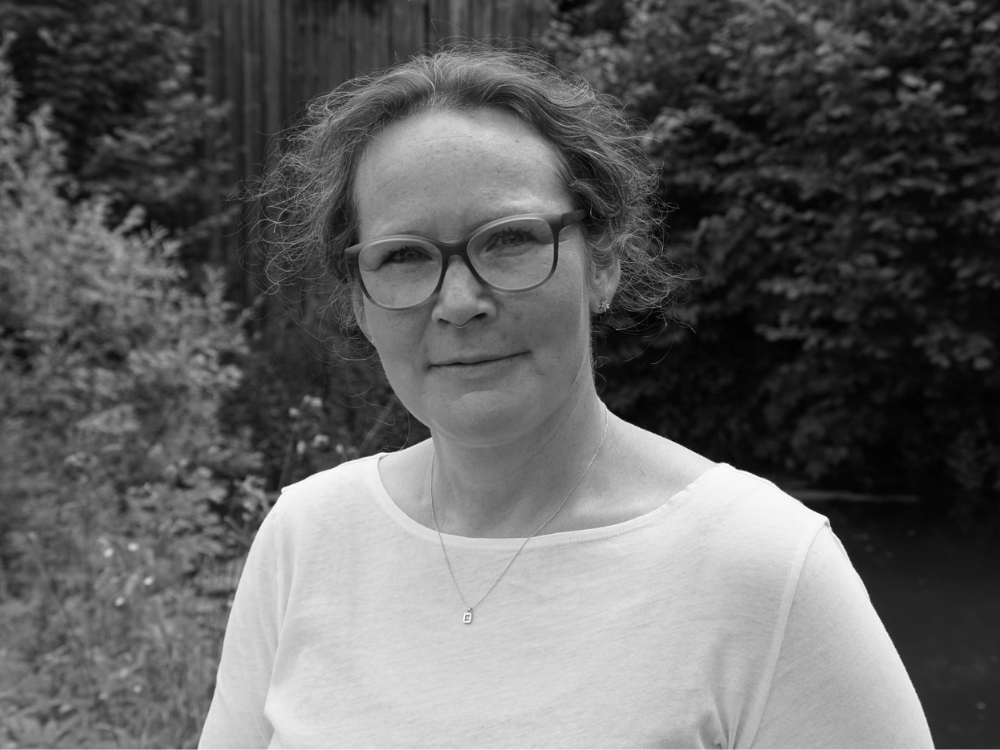 My name is Melanie and I am a fifth-generation comb maker.
Just recently, a journalist came to us for an interview and asked me: "Melanie, why are you doing what you are doing?"
For a moment I thought about how to summarize it and
replied: "Because I want something meaningful, sustainable, long-lasting
and make people´s faces light up."
It was immediately understandable that our combs are useful, sustainable and durable. She was skeptical about why I put a smile on people's faces.
A little later she looked at our selection of horn and wooden combs, I chose 3 different ones from the many different combs and gave them to her in front of the mirror to test.
There it was – the smile on her face.
I asked her if she could sense now what I mean when I
saying that I light up people's faces and she laughed and nodded.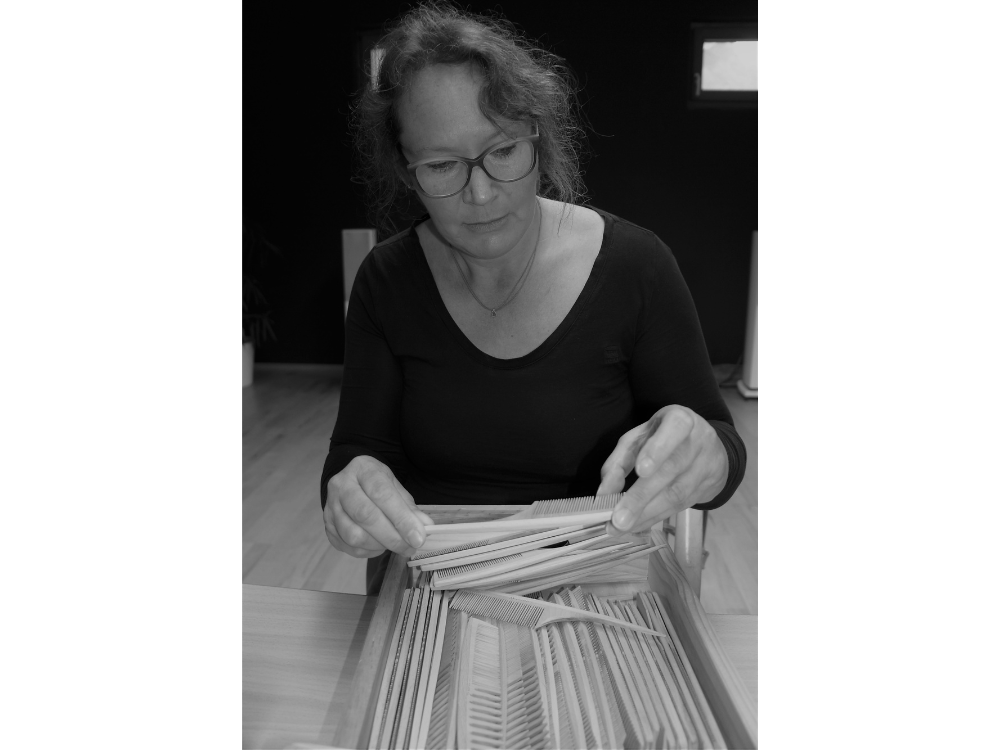 For more than 30 years I have been connected with comb production and our customers in Enzendorf.
How many combs I have already sold directly to customers
I can't say at all. It is the experience, the bond with the materials wood and horn. Just as not every person is the same, so is not every piece of wood and every comb.
To this day I have found the right comb for every person (and also animals), so that people start to smile when combing, are happy and relaxed.
The Red Thread
the production of high-quality combs
Connectedness with man and nature
appreciative, resource-saving use of raw materials
joy in what we do
Martin Christian Groetsch (*1902 - †1991) was my grandfather.
He was the last master comb maker in Germany and was the third generation to run the business.
His sons were not allowed to train as comb makers with him
start since early 20th century the material plastic also
for the combs became more and more the focus.
My grandfather - born in 1902 - lived in a rapidly changing time. Today it is digitization. Back then it was industrialization and world wars. He grew up with the comb cutting machines, which have been a constant at the time of industrialization and since the founding of our company (1848), and traveled all over Europe to install them. He dealt with the materials bakelite, hard rubber and various plastics.
He was never convinced of the various plastics and therefore he decided in the early 1970s to do without plastic and to make combs out of wood.
A challenge at this time.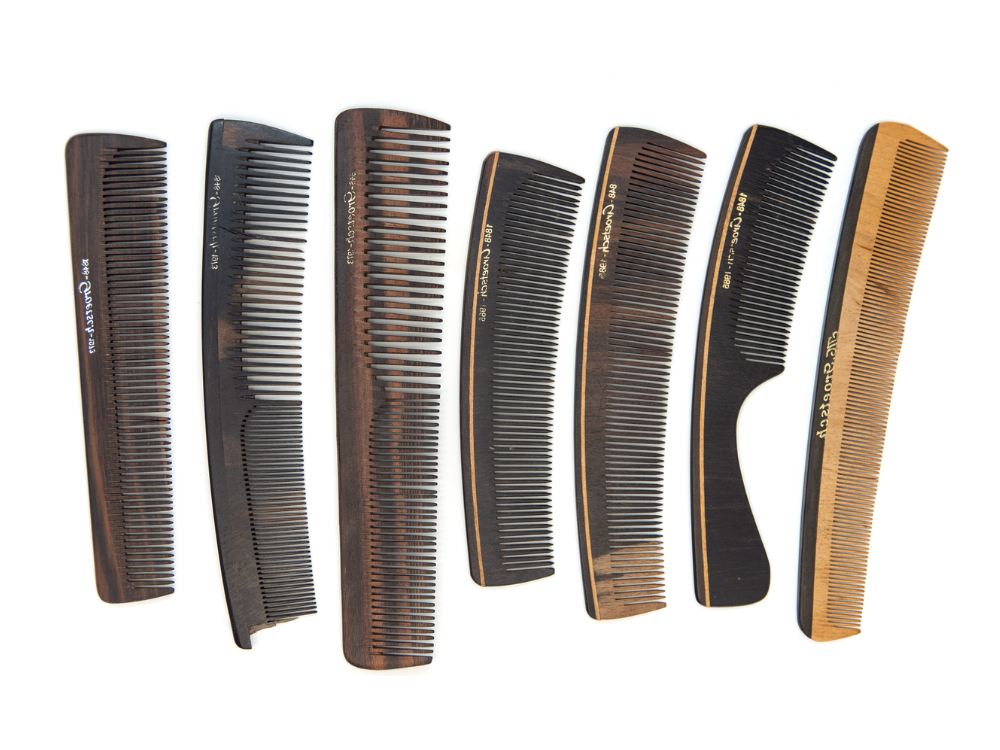 One of the oldest Groetsch combs is from 1973
I was only a year old then.
Yes, the dark woods are exotic woods. My grandfather started
with local maple wood on the left in the picture - only these were
Wooden combs were not for sale at that time.
So he traveled the world buying leftovers from the furniture industry and making dark combs up until the bio wave in the 80's.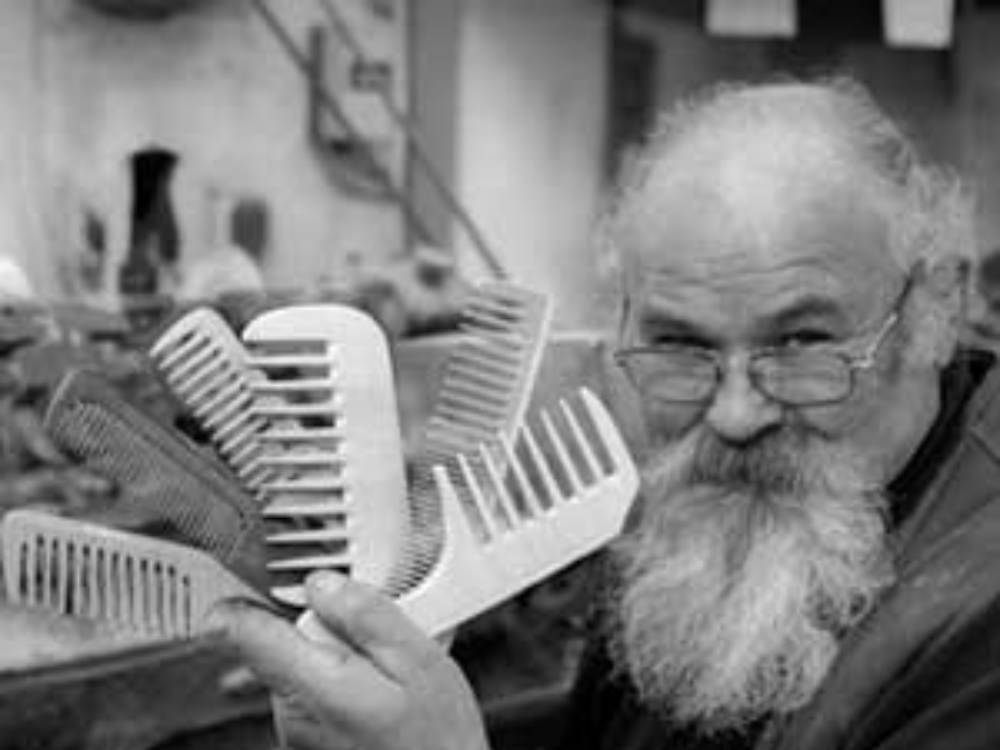 My father: Martin Groetsch
For as long as I can remember, my father was accompanied by a comb trimmer. There were often exchanges between my father and my grandfather regarding the optimization of production. In 1991 he took over the business. My father's strength at that time was to optimize the manufacturing process with the great advantage of the old comb cutting machines and to successfully perfect the gluing of the strips. We got to know wood types such as service tree, service tree, plum, yew and many more and there were more and more comb models.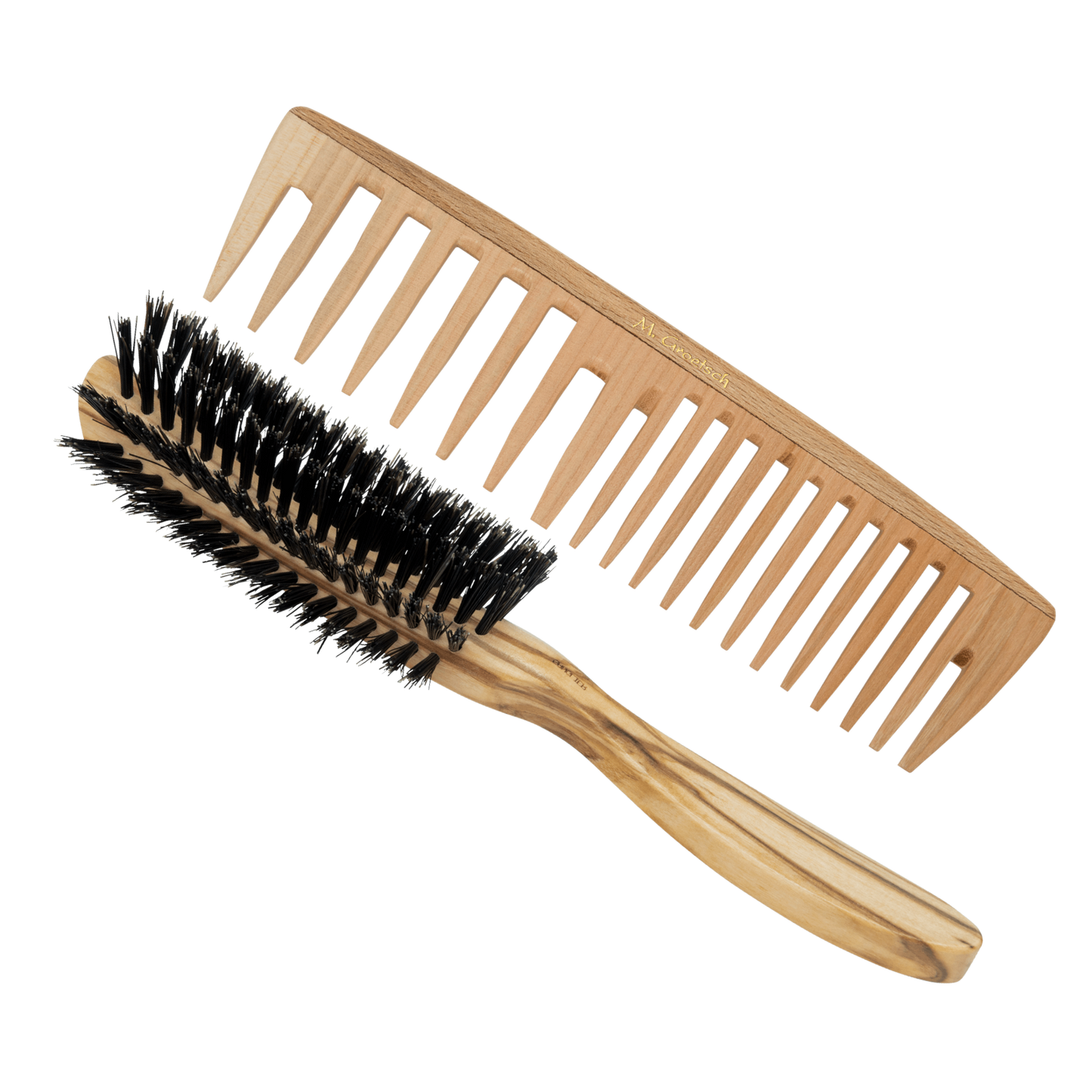 My grandfather didn't make the extremely-wide teeth for curls. It was my father who introduced the teeth. Direct contact with customers at countless trade fairs and craft markets supports creativity for new products.
Hair cutting combs emerged from collaboration with hairdressers. My father's warm charm makes it easy for customers to formulate what their perfect comb should look like. Personal contact with our customers was important to my grandfather. My parents lived it at the numerous trade fairs and craft markets and I live it with my team as well.
A major reason why our combs will never be an industrial product, mass-produced or listed by large chains.
Because we love what we do and value the raw material, we don't cut away wood to ensure the comb is perfectly the specified length.
A comb with a length of 18 centimeters can also be 18.5 or 19 cm - depending on how the wood shows itself.
Comb a smile on your face.
Every comb from our company is handmade with heart and mind. Tested and packaged without plastic. Every Groetsch comb has the potential to make you shine.
Head massage included!
Your comb glides from your forehead to the nape of your neck over your scalp and you feel it all the way down to your toes. Balancing, equilibrating and relaxing.