wood or horn?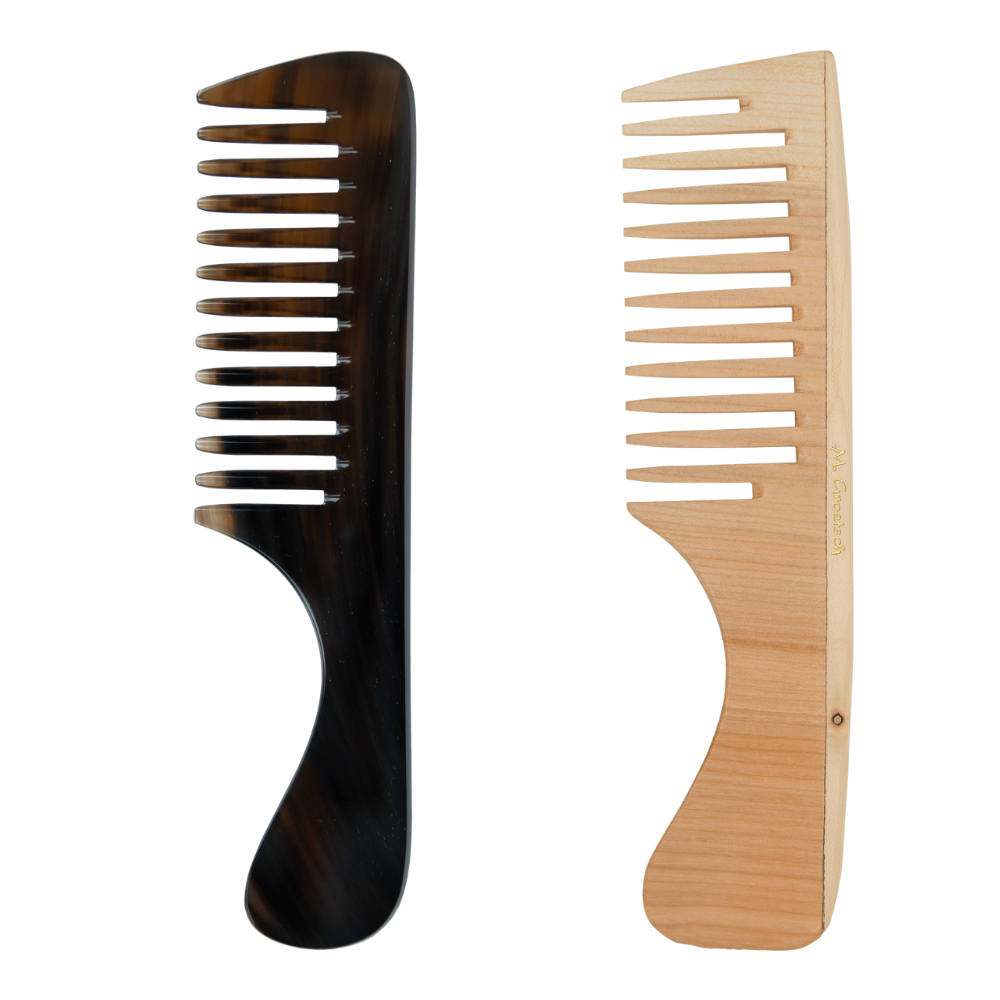 It's like: Geha or Pelikan. Pepsi or Coke. Alpro or soya. In our experience, there is no better or worse. Some are happy with a wooden comb and others with a horn comb.
Both have their advantages.
Advantages - wooden comb:
A wooden comb is electrostatically neutral, lies in the hand with a pleasant feeling of wood and surprises new customers again and again with its lightness.
A slight wooden sound is heard when combing. Since the wooden comb has not been treated with beeswax or other polishing agents, it is vegan. Regional wood purchasing is very important to us and especially the resource-saving use of the valuable raw material. Due to the mechanical very fine grinding, a wooden comb glides gently and gently through your dry and wet hair. It will give you many years of pleasure. By choosing different woods such as maple, apple, service tree, hornbeam, cherry or service tree, you can choose the most beautiful comb for you. It has been proven that no electrostatic charging occurs when combing with a wooden comb. Since electrostatic charging can have a stressful effect on the organism, protect yourself when using a wooden comb.
You can find more information about our different types of wood here: Types of wood
Origin of the raw material wood
We do not use FSC-certified wood, as we have established numerous contacts with forest farmers and the forest in the 50 years that wooden combs have been manufactured in the Pegnitztal.
Maple, beech, cherry, hornbeam, service tree, service tree and even ginkgo are of regional origin and for us regional means that the tree was max. 100km away from us.
The plum wood comes from Baden-Württemberg and the olive wood from Greece.
The transport routes are kept as short as possible with the regionality.
Compared to horn, wood is a CO 2 store - more information can be found here: CO 2 store
Advantages - horn comb
Horn is the same material as our hair. That's why a horn comb glides through the hair with almost no resistance when combing. Anyone who has ever had a horn comb will want to have this combing feeling again and again. But Horn charges himself somewhat electrostatically. If you are very sensitive here, we recommend one of our wooden combs.
My experience is that people whose hair is fine and tangles easily hardly notice the static charge and how this charge has a positive (untangling) effect on the hair.
Origin of the raw material horn
There was a time when you could still buy horn records in Hungary - well even at that time you had to be lucky that they were of the required quality.
Today the animals are slaughtered younger and the horn has little opportunity to grow. Unfortunately, there is no longer any European horn from which horn combs can be made. A few years ago we tried to produce combs from local horn with an organic farming association - very small beard combs - yes, that's possible, but the effort is disproportionate.
And where does the horn come from?
The cattle horn we use comes from Africa and the buffalo horn from India. There are decades of connection to the companies that manufacture comb blanks from the horns that we need for our combs. In the 19th century there were two professions. There was the comb maker and the comb dresser. Similar to the tanner, who processes animal skin into leather and the skinner then buys the finished leather from him, the comb maker received the horn plates from the comb dresser. In our family we didn't learn how to cook, saw open, bend open and punch out the horn and we are happy to be able to receive the highest quality horn blanks from companies that have decades of experience in this area.
Life is change and one of our most important constants over the past 175 years is sustainability and quality. Since the quality of cow horn is declining more and more and we have to be more and more selective in our choice of horn plates, we decided in the summer of 2022 that we would not buy any more cow horn plates. The stock is being processed and the first varieties are no longer available.
What remains is the buffalo horn, because this quality more than convinces us.
These are the differences and advantages of the raw materials horn and wood - the decision is yours.
---
← Older post Newer post →